Putting Patients First
Our goal is to educate early and involve patients in decisions regarding their smile and oral health. Dr. Pappas and our team ensure that patients feel well cared for and understood.
Meet Dr. Pappas
What Sets Us Apart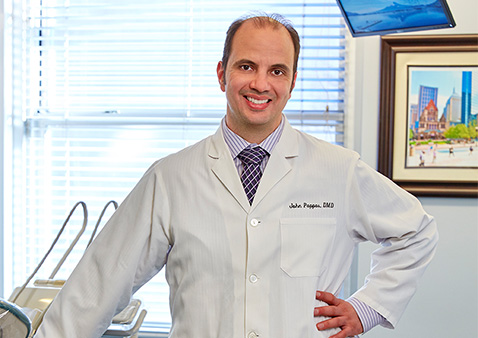 Welcome to Masterpiece Dentistry at Copley & Burlington
Dr. John Pappas and his welcoming team provide advanced dental care solutions, which ensures you achieve optimal oral health and a beautiful, natural-looking smile.
Ours is a patient-centered practice: We combine leading-edge dentistry with completely personalized care. We take time to learn your desires and thoroughly diagnose clinical concerns, then Dr. Pappas crafts a unique treatment plan for your specific needs.
Before starting treatment, we will walk you through the process, and explain what is recommended and why Dr. Pappas feels it is appropriate. We will also discuss options, financials, and timelines, to ensure you are equipped to make informed decisions about your smile's health.
In addition to preventive and general dentistry, we offer:
Masterpiece Dentistry at Copley, in the heart of Boston's Copley Square, serves Cambridge, Quincy, and surrounding communities. We also have a location in Burlington, MA. Please contact us to learn more and schedule a no-stress consultation with Dr. Pappas and our team.
We all look forward to welcoming you to our practice. It will be an honor to be your partners as you take control of your oral health and achieve a great smile. Please call today!
I've visited many dentists, and my experiences at Masterpiece Dentistry have been the best I've had, especially compared to others in Boston. — David
Very gentle, professional, friendly, and excellent at what they do! — Tad
Incredible dental office. Everyone is super-friendly and make you feel very comfortable and peaceful. — Gabriela
Read More